Wednesday, May 13, 2020 / by Elissa Tran
EASY MAY HOME MAINTENANCE AND SAFETY CHECKLIST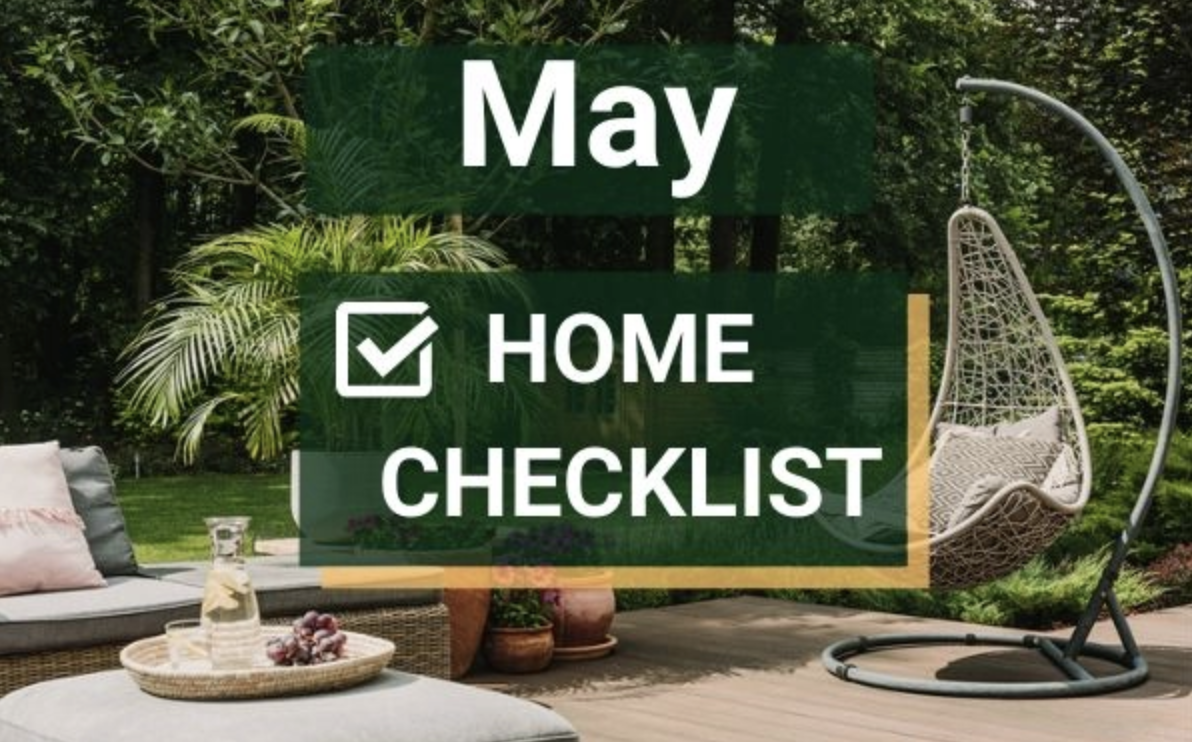 We know life gets busy so we've kept this concise and simple for you. The printable checklist will be a handy reminder for you too.
Included are home safety tips. Be proactive and take small steps to protect yourself and your loved ones. Fall asleep rest assured you took steps to ensure a safe home for your family.


1. CHECK FOR ELECTRICAL SAFETY
May is national electrical safety month. Take this time to check your electrical cords for damage.
Be sure to check your power strips and make sure they're not on overload. Make sure your power strips have a power surge protector.
Cover your unused outlets to prevent small children and pets from accidentally shocking themselves. Covering unused wall outlets also helps to keep debris and dust from interfering with the sockets.
Take additional precautions with these electrical safety tips.
Children and pets are susceptible to injury from electronic dangers. Use these tips to help protect your children.
For pet electrical safety tips head over here.
Cracks and potholes in your pathways and walking areas can pose a dangerous hazard.
Repair concrete cracks and inspect outside areas for tripping hazards.
Watch the video below for easy step by step instructions on how to repair concrete.
3. CHECK OUTDOOR LIGHTING
Check your outdoor lighting. Ensure all your lights are working and check to see if any repairs are needed.
Use these 7 outdoor safety lighting tips to help keep you, your family and guests safe.
4. CHECK AND REPAIR FENCES AND GATES
Now is a good time to check your fences and gates. Clean and make reparations as needed.
Head over here for tips on cleaning various types of fences and making the necessary repairs.
5. TEST YOUR WATER HEATER'S PRESSURE RELIEF VALVE
Routine testing of your water heater's pressure relief valve can prevent a possible explosion and help reduce the chance of a leak caused by mineral and corrosion build up.
A buildup of minerals and rust can cause a valve to freeze up and become nonoperational.
Check your water heater's pressure relief valve with these step by step instructions.
After a long winter we're ready for outdoor cooking and entertaining. Take some time and get your grill in tip top shape.
Give it a good cleaning and let the barbecuing begin!
7. CHECK FOR LEAKS UNDER YOUR KITCHEN SINK
Slow water leaks can wreak havoc on your home. Catching leaks early and making the necessary repairs can prevent serious water damage later.
Take a moment and check under your kitchen sink for signs of water leaks.
8. CLEAN YOUR EXTERIOR DOORS
Dirt and grime tend to accumulate on exterior doors and garage doors every few months. Take a nice day and give them a cleaning.
Grime and dirt can build up on your deck. Take some time and give your deck some TLC.
For vinyl decking check out the video below for cleaning tips.
Does your wood deck need a refresh? Check out the video below on how to clean and restain a wood deck.
This May home maintenance printable checklist is
a good start. Add to it as you like. Maybe there's something here you've meant to get done but it's slipped your mind.