You love your family and your home – protect both and you'll enjoy a beautiful space for years to come with your loved ones.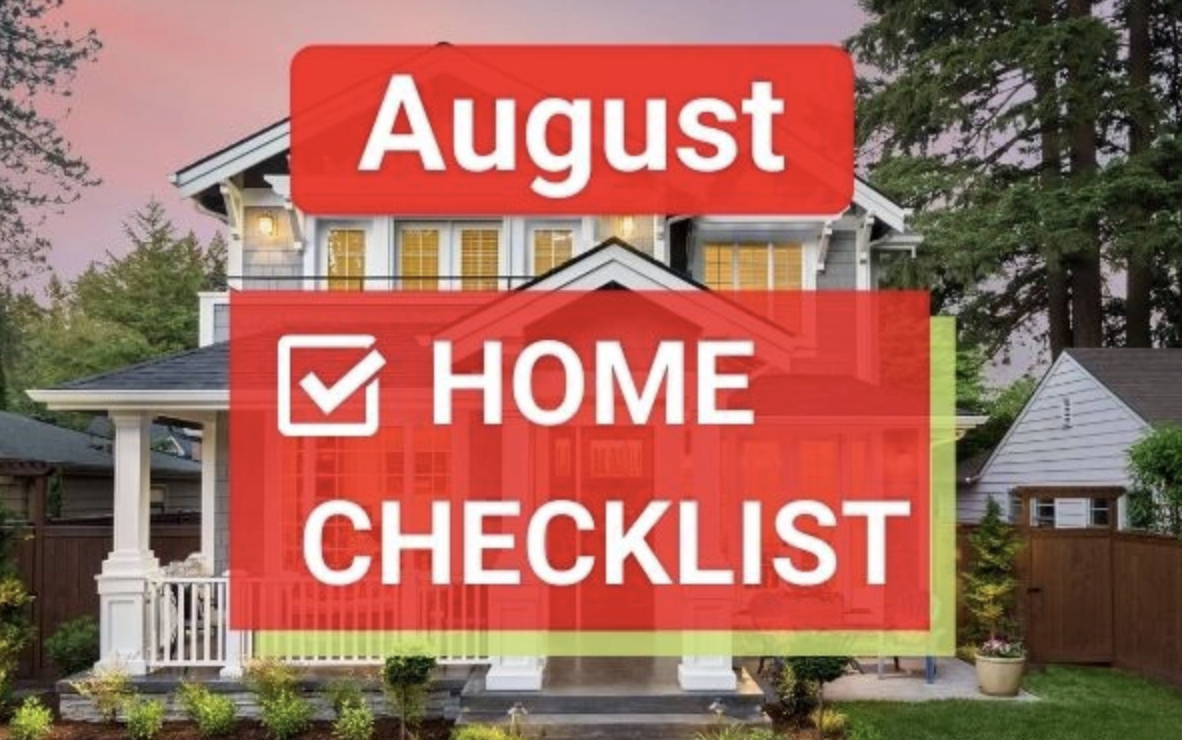 EASY AUGUST HOME MAINTENANCE AND SAFETY CHECKLIST
With the warm weather now is a good time to give your carpets a good cleaning so they'll dry quicker.
Keep your windows open, let the warm breeze flow through your home and freshen your carpets. Clean, fresh carpets are a great way to get ready for the next season, fall.
2. MAKE SURE YOU HAVE SEVERAL NEIGHBORS' CONTACT INFO IN CASE OF EMERGENCIES
Be sure you have several of your neighbors' contact information in case of emergencies.
They're the closest ones physically to you and will be more than happy to help out and I'm sure they would appreciate you offering to help out if they need anything.
We had an emergency this last month and it was great to have the neighbors jump in and help.
We're not islands and we need each other…be sure to create a helpful, strong neighborhood community!
3. CLEAN AND MAINTAIN BATHROOM EXHAUST FANS
Cleaning your bathroom exhaust fan is an important home maintenance and safety task.
Your bathroom fan helps remove odors, excess moisture, humidity and airborne pollutants.
Head over here for tips on cleaning your bathroom vent fans.
4. MANAGE FLYING PEST PROBLEMS
Be sure to manange flying pest problems. Late summer is when they tent to show up more.
Walk the perimeter of your home keeping an eye for areas where there are pools of moisture. Mosquitos and bugs are drawn to these areas.
5. PRUNE BUSHES, PLANTS AND DEAD LIMBS
Dead tree limbs and branches pose a danger in the winter. Ice, weight of snow and winter storms cause havoc and can cause these to break off.
While it's warm and dry, right now is a good time to get outside and get rid of the dead tree limbs and overhanging branches.
Clear away dead bushes and shrubs. Prune your shrubs and bushes now and have your yard ready for Spring's growing season.
6. CLEAN OUTDOOR STONE SURFACES
7. GIVE YOUR HOME AN ELECTRICAL SAFETY CHECK UP
Electrical issues and the not so obvious electrical hazards can be a source of fires and can create havoc on other areas in your home.
Be proactive and conduct an electrical safety check up in your home with these tips.
8. INSPECT BASEMENT AND CRAWL SPACES FOR MOISTURE
It's not uncommon to have moisture in your basement, however, moisture in your basement can be problematic and very bad news.
Leaking pipes behind your walls, slow drips sight unseen and water seeping in areas that aren't in plain view can lead to problems from structural damage to airborne toxins (mold in the air).
Head over to "6 Common Causes of Basement Moisture and How To Fix Them" to help you stay ahead and take preemptive measures before more serious problems occur.
August is a good time to inspect your roof before fall and the cold weather arrives.
Check your roof for integrity issues, loose shingles, damaged roof flashing, rust and other issues that could affect your roof.
For roof maintenance tips head over here.

Your

roof is a vital part

of your home.
Watch this video to learn simple maintenance tips that can be used to help prevent losses and prolong the life of your roof.