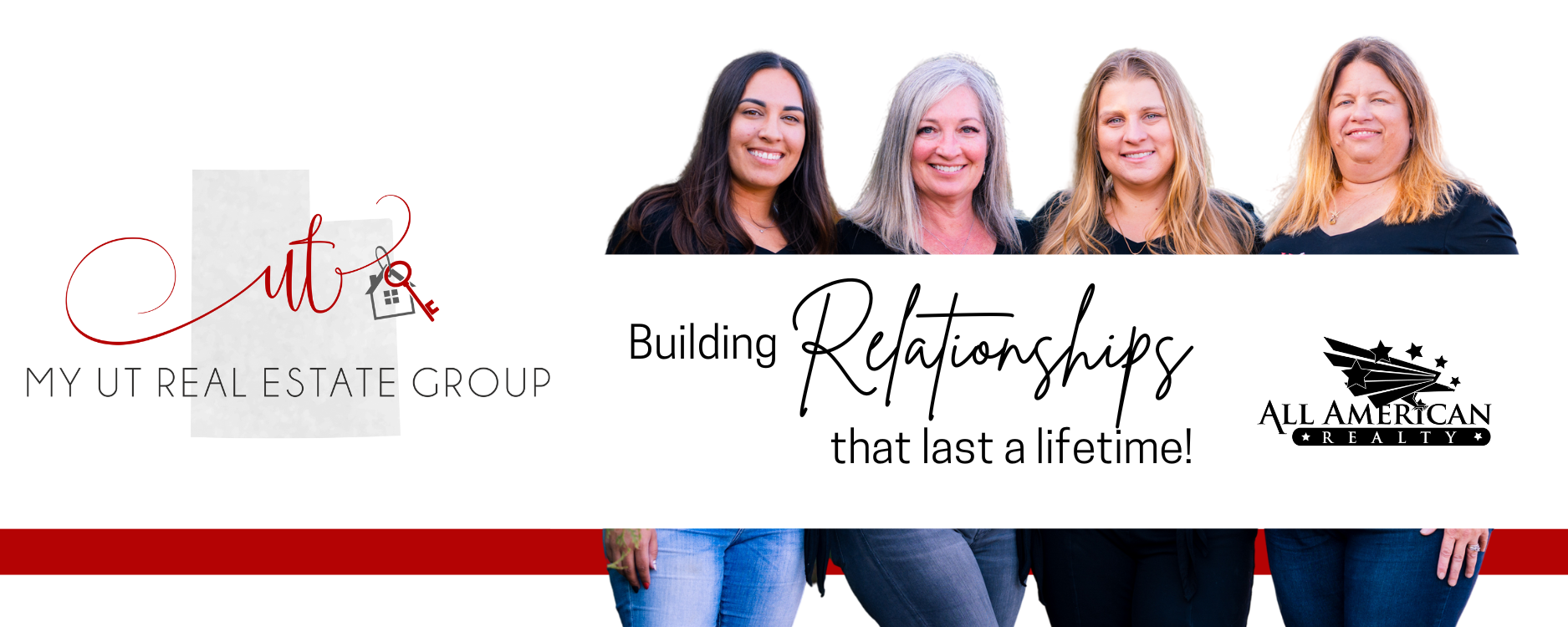 Building upon the strength of individual talents, knowledge, expertise, and caring is indeed the cornerstone of true success, and it is precisely what sets the My UT Real Estate Group apart. With over 40 years of combined experience in the real estate industry, our team is comprised of exceptional professionals who bring a wealth of knowledge and expertise to the table. We believe in cultivating an environment of collaboration and support, where every team member's unique strengths and talents are celebrated and leveraged to provide our clients with unparalleled service.

As skilled negotiators with a deep understanding of the local market, we pride ourselves on our ability to deliver results that exceed our client's expectations. Our extensive network of industry leaders allows us to provide you with access to the best resources and support throughout your real estate journey. Our team structure and extensive network allow us to cover the Greater Salt Lake area at all price points, ensuring that we will be there for you no matter where you are or where you need to be.
At My UT Real Estate Group, we truly listen to our client's needs and connect them with opportunities that best match what they are looking for. We understand that buying or selling a home is a significant decision, and we approach each transaction with the utmost care, attention, and professionalism. Our open-door policy means that we will always be available to answer your questions and address your concerns, and we will return phone calls, emails, and texts promptly to ensure responsible, transparent, and personable service. Our clients are more than just business transactions to us - they're our friends and neighbors, and we treat them as such.


We are passionate about building relationships that last a lifetime, and we are committed to helping you achieve your real estate goals. Whether you're a first-time homebuyer or a seasoned investor selling, we have the skills and resources necessary to help you achieve your real estate dreams. Contact us today to learn how we can help you take the next step in your real estate journey.
Elissa Tran
Team Leader, Associate Broker, REALTOR®
801-413-3381
801-915-2836
License Number: 7507327-AB00
elissa@myutrealestate.com
Elissa the founder of The My UT Real Estate Group, became a Realtor® in 2009. Her smile will brighten your day. Her attention to detail and her creativity is unparalleled. Raised in Salt Lake City Utah, Elissa comes from a family of realtors, which makes real estate second nature. Working side by side with her mother at the young age of 15, she has gained knowledge through truly experiencing the real estate world in action. Coordinating, marketing, and working with agents & clients has allowed Elissa to be involved in over 3,000 transactions to date. Elissa has enjoyed meeting so many great clients who have helped make this job a fulfilling career. She received her Associate Broker license in 2019. She also has years of experience in training, developing, and implementing Real Estate training and enjoys helping others excel in real estate. Elissa has two adorable children and is married to a car junky. Between her kids' football, BMX, snowboarding, gymnastics, dancing, and other activities, Elissa keeps busy but enjoys every moment of her day! Designations: Seller Representative Specialist SRS, Real Estate Negotiation Expert RENE, Pricing Strategy Advisor PSA, Senior Real Estate Specialist SRES, Certified Real Estate Team Specialist C-RETS, As a real estate professional, it is important to have certain designations that allow her to better serve her clients. These designations often require additional education and training, which allows her to provide expert advice and guidance in specific areas of the real estate industry. By having these designations, she can provide a higher level of service to her clients and help them make informed decisions throughout the buying or selling process.
Lacey Finnell
Sales Partner, REALTOR®
801-413-3381
307-286-4438
License Number: 12596821-SA00
lacey@myutrealestate.com
Lacey moved to Utah in 2014 after falling in love with the beautiful Wasatch Mountains. While looking to plant her roots in Salt Lake City, she discovered her love of Real Estate. Since moving to Utah, she has been involved with local rescues to foster kittens to prepare them for their forever home. Her dedication and love for others and animals is evident in the way she exhibits care in all she does. Lacey has a Bachelor's Degree in Hospitality and Tourism Management with a minor in Business Management. She has years of experience in the travel industry with a focus on training others. Her years of experience guiding others has taught her to look at big picture while paying attention to the small details. Honesty and integrity are guiding principles she lives by. She loves dancing, hiking, playing pickleball, traveling, and mountain biking during her downtime.
Staci Powell
Owner/Broker, Realtor®
801-413-3381
801-913-2463
License Number: 5152101-PB00
staci@myutrealestate.com
Staci is a seasoned REALTOR® with over 20 years of experience in the Utah Real Estate market. In 2011, she received her Brokers License and started All American Realty in South Jordan, Utah. She is a Champion of the American Dream of Home Ownership and believes that industry professionals can "Redefine the American Dream" and that "Dreams Can Come True." Staci was the VP of Membership in 2012 of the Women's Council of REALTORS® (WCR) Salt Lake Chapter and loves networking with other REALTORS® across the country. She has served on various committees and assisted with fundraising events within the community. She has been an Ambassador in the local Chamber of Commerce. She is positioned to stay ahead of the game because she is constantly researching the market and property values. She uses innovative advertising and techniques in an industry that is becoming more sophisticated and challenging. Staci received a Bachelors Degree in Business Management from the University of Phoenix. Staci is married, has a daughter (who runs our team) and two darling grandchildren. She is a licensed private pilot with an instrument rating who loves to travel and see the world. As a scuba instructor, her hobbies include teaching others to love and enjoy the ocean.